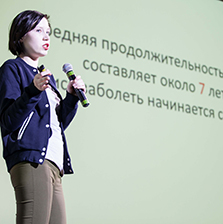 Proteins for Parkinson's
Ekaterina Volodina, a specialist at the international laboratory "Solution Chemistry of Advanced Materials and Technologies." spoke about the promising development, which in the future could help in the fight against Alzheimer's disease or Parkinson's. Under certain conditions it's possible to restore the properties of toxic denatured proteins, making them more effective. In theory, this will simplify and reduce the cost of medicines derived from human proteins as denatured protein molecules (carboxylic anhydrase) are mixed with the colloidal solution of inorganic nanoparticles of aluminum.
Next ITMO University Science Slam will take place in the fall of 2016.
(author Polina Poleshcuk)