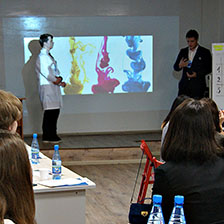 On November 18, the regional stage of the IV Interregional Chemical Tournament in St. Petersburg was held on the basis of the SCAMT laboratory. On this day, our laboratory hosted more than 100 guests: participants, fans, accompanying, MSU representatives and BIOCAD.
The event was held at the highest level, the participants impressed the jury members with their erudition and non-standard approach to solving the tasks set. Each team showed excellent preparation and a desire for victory. Some teams were better than others. In a stubborn struggle the winner was the team "Ants-Listorezy" School No. 77, which in February next year will go to Moscow for the final stage of the tournament.
We hope that next year there will be more teams willing to participate in the regional stage. We would like to express our gratitude to volunteers and sponsors who rendered invaluable assistance in organizing this event!